2022 Donruss Optic Football 12 Box (full Case) Break #f1167 Pick Your Team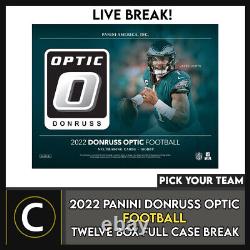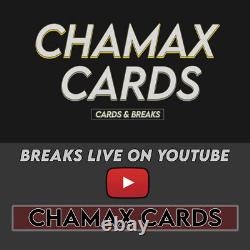 This break will include all 32 NFL teams. If you miss the live break you can go to our YouTube channel, as all breaks will be saved there under the break #. Any questions on how our breaks work, don't hesitate to message us! All cards will be given to the team who's logo is on the card. If the card is featuring player(s) in a College game, or All Star game, the card will go to the team the player currently plays for. If the player is retired, it will go to the team he played MOST games for. A HIT card is a value card that is pulled in a break. We classify a hit card for this product as all cards except veteran base cards.
All cards are sent out every Monday. 2022 PANINI DONRUSS OPTIC FOOTBALL 12 BOXES - FULL CASE. Configuration: 12 boxes per case.
One of the most anticipated releases of the year 2022 Donruss Optic is loaded with on-card autographs, parallels, and all of the best rookies the NFL has to offer. Look for on-card Rated Rookie autographs from Kenny Pickett, Malik Willis, Desmond Ridder, Chris Olave, Garrett Wilson and all of the other top rookies from the 2022 Class. New in 2022, look for Electricity and Jazz parallels within the Base and Rated Rookies sets! Be on the lookout for all-new inserts in Light it Up and Diamond Hands as well as the all-new short-print insert, Blazers! Look for the rare and ultra popular case hit insert, Downtown which parallels down to Gold Vinyl 1/1!
10 Parallels (8 #'d).