2022 Panini Immaculate Football 3 Box (half Case) Break #f1165 Pick Your Team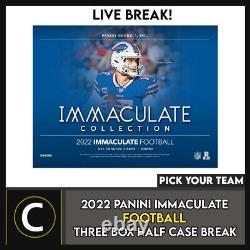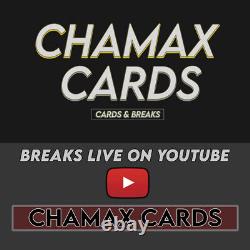 This break will include all 32 NFL teams. If you miss the live break you can go to our YouTube channel, as all breaks will be saved there under the break #.
Any questions on how our breaks work, don't hesitate to message us! All cards will be given to the team who's logo is on the card. If the card is featuring player(s) in a College game, or All Star game, the card will go to the team the player currently plays for. If the player is retired, it will go to the team he played MOST games for.
A HIT card is a value card that is pulled in a break. We classify a hit card for this product as all cards. All cards are sent out every Monday. 2022 PANINI IMMACULATE FOOTBALL 3 BOXES - HALF CASE. Configuration: 6 boxes per case. Look for On-Card Autographs of all the top Rookies and Legends the NFL has to offer. Find some of the first On-Card Patch Autographs of Aidan Hutchinson, Ahmad "Sauce" Gardner, Kenny Pickett, and many more! Chase On-Card Autographed Memorabilia cards in: Rookie Patch Autographs, Premium Patch Rookie Autographs, Immaculate Players Collection Autographs, Immaculate Numbers Rookie Patch Autographs, and more!
Look for oversized memorabilia cards, which include: Team Logos, Brand Logos, Laundry Tags, NFL Shields, Gloves, Helmets, and more! Returning in 2022- Look for memorabilia cards such as: Clearly Immaculate Rookie Jerseys, Nameplate Nobility Signatures, and the always-unique Gatorade Sideline Towel! Find On-Card Autographs from current stars and retired legends in: Signature Moves, Immaculate Moments, HOF Signatures, Comeback Signatures and many more!