Vintage Riddell Kra-Lite TK Football Helmet 1973 New Orleans Saints Abramowicz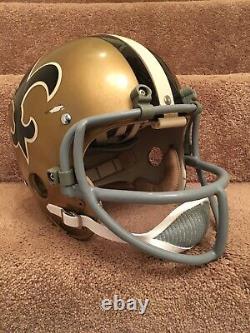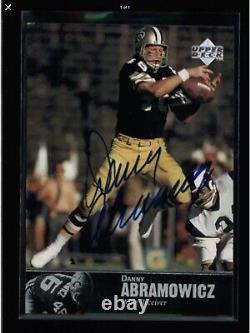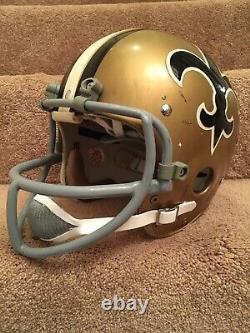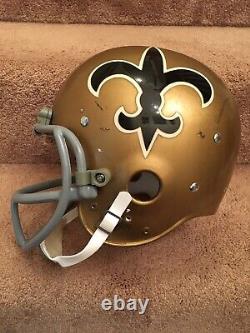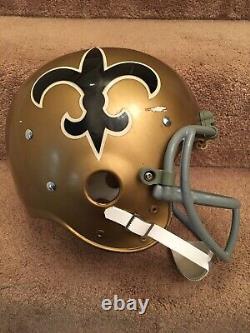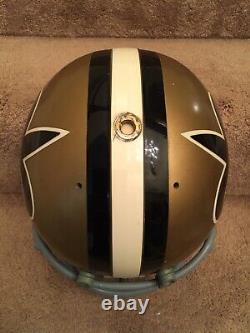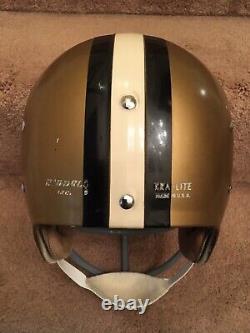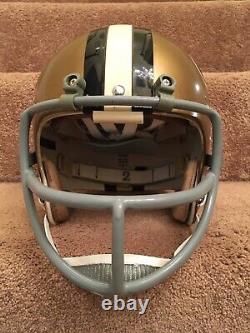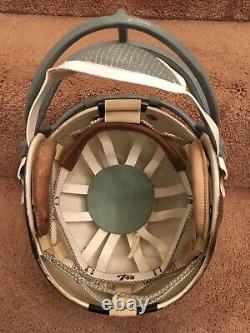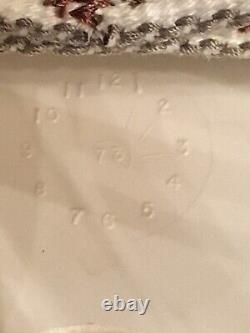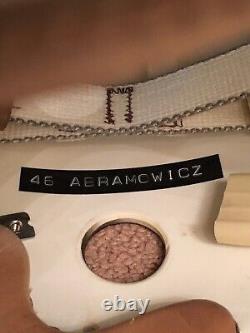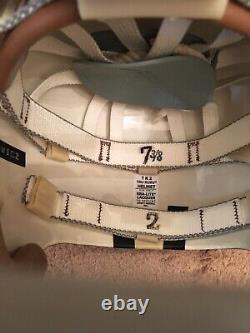 For your consideration is this very rare New Orleans Saints Riddell Kra-Lite TK2 helmet from 1973 as evidenced by the ring date stamp above the ear hole. This was a Riddell lamp as described below, so helmet includes vintage double layered decals and vintage thin mil striping as well. That's right- you read that correctly- these decals are vintage and layered.
The black and white layers are 2 different pieces of vinyl. To make this beauty even more desirable we have customized this helmet by adding a 1967 style OPO facemask as worn by All-Time great and Saints fan favorite, wide receiver Danny Abramowicz. To round out the package we have added black dymo tape above the ear hole with Abramowicz's number 46 and name just as Saints equipment managers might have done for identification purposes. See photos for condition- helmet has some beautiful scuffs and scrapes which make it look like it just came off the field. The Saints were among the most scarcely made lamps, and therefore are very rare. PLEASE NOTE: We are not claiming this helmet was issued or used by the Saints in an NFL game. Will make a stunning display! Many of our helmets are vintage from the 1960's and 1970's. These helmets had the suspension removed and were then attached to a wooden base with additional lamp parts attached.
We have removed these helmets from the lamp and installed a new suspension identical to the one used in the 1960s and 1970s, and the result is a stunning and amazing vintage helmet for with vintage authentic team decals and Riddell 2-bar BD-9 facemasks. All of our helmets are for display purposes only! They are not to be used or worn for competitive play. Westbrook Sportscards has been in business since 1988.